· Consumables Management Painpoints

◆ Manual Management Difficulties:
The consumables stock in/out procedures including application and approval, is carried out by warehouse administrators. But medical consumables are usually stored in different department or office in the hospital. Manual management will be a lack of timeliness and lower the accuracy.
◆ Inventory Checking Difficulties:
Consumables use status checking and in stock status checking are required for consumables inventory management. However, the manual checking is not efficiency enough for a huge amount inventory. And manual mistakes may cause economic loss especially for high value consumables.
◆ Life Cycle Tracking Difficulties:
Manual management is hard to track the real time consumption of consumables. The replenish work cannot be carried out in time, and the overstocking also cause a waste of resources.
· How does our solution work?
Using RFID technology, put the consumables with RFID tags into the specially customized cabinet, which is equipped with RFID reader and antennas, to realize the functions of fast stock in, stock out, and inventory management of consumables.

◆ Solution Procedures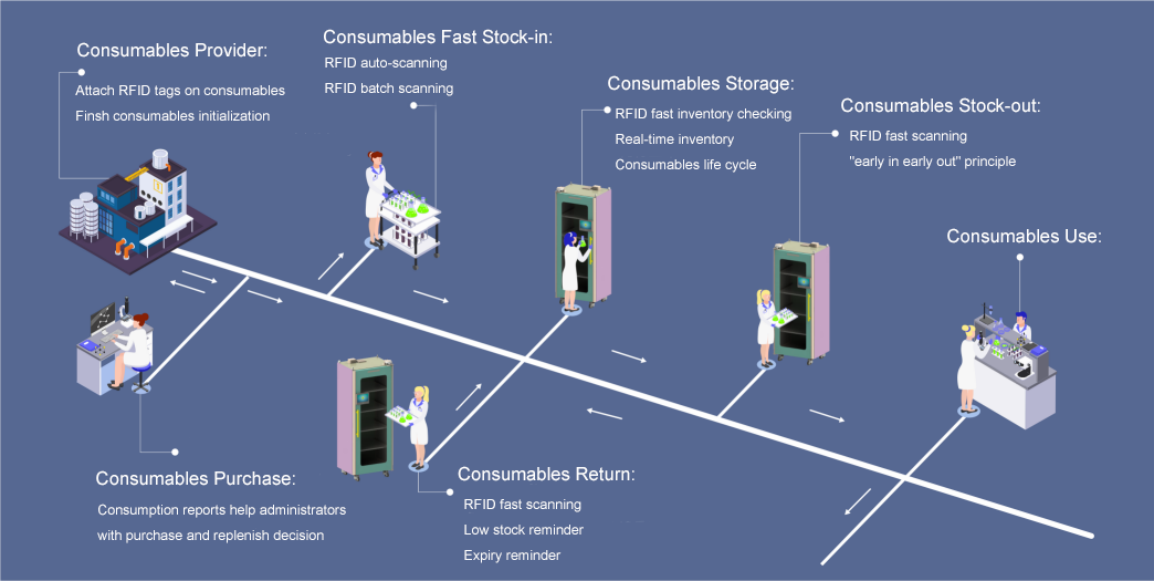 ◆ RFID Smart Medical Consumables Cabinet

The cabinet integrates various intelligent device such as RFID reader, RFID antennas, Android integrated machine, IC swipe card device, temperature and humidity controller, etc. It can automatically manage the consumables with RFID labels inside the cabinet.
The user scans his IC card to unlock the door → take out/put in→ close the door to automatically confirm the take out/put in operation, and the system will show consumables details, time of taking and other information.
◆ Support Various Login Method:
IC card, finger pring, face recognition.
◆ RFID Smart Inventory:
Fast and automated inventory checking. Scan hundreds of consumables in 2-3 seconds.
◆ Monitor Camera:
Realize 24-hour unattended management. Provide with video evidence to any improper operation
◆ Multi Sensor:
Equipped with all-in-one sensor for temperature and humidity. Check the real time condition to keep a good storage environment for the consumables.
◆ Remote Inventory:
Administrator can remotely check all the cabinet status and consumables information. Low stock will inform administrator for replenishment.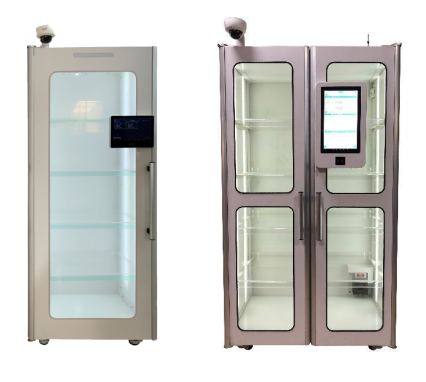 · Industry Value
✔Realize the smart management of medical consumables , making the consumables controllable and traceable.

✔Real time inventory tracking avoids overstocking waste, and help replenish in time.
✔Automated consumables stock in and stock out, greatly improves the efficiency.
✔Record the consumption for each user and each type of consumables.
✔Generate consumables inventory reports in real-time in the background system.

· More Solutions for Medical Field
◆ RFID Smart Recycling Cabinet:
RFID Smart Recycling Cabinet is to recycle the used medical items, uniform, scrub suits, bedding and clothing.
Users just put the items from the inlet. Then the cabinet will automatically scan the RFID tags on the items or clothing.
When the cabinet is full, the administrator can unlock it, and then take out all inners for scrap treatment or laundry.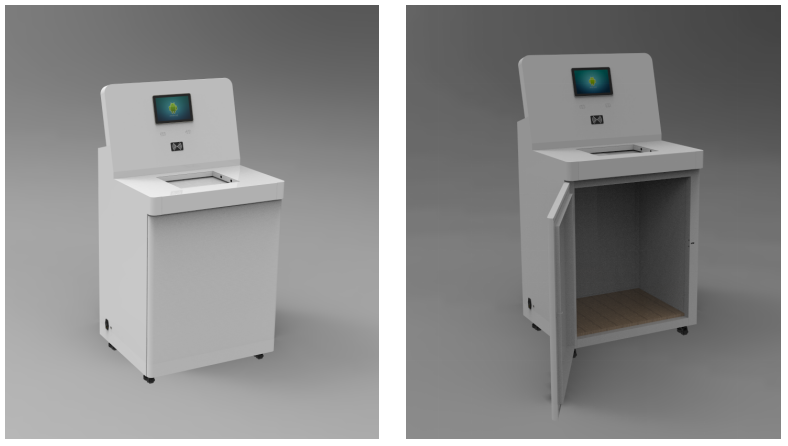 ◆ RFID Tray-type Tunnel Machine:
RFID Tray-type Tunnel Machine is suitable for laundry inventory checking.

Scan the bedding, clothing, uniform before and after laundry, to avoid the missing pieces during laundry procedure.