· Industry Background
In the era of rapid development of science and technology, the demand of scientific experiment is growing. In universities, research institutes, hospitals, chemical plants, many places are equipped with laboratories.

However, many chemicals have flammable, explosive, corrosive and other dangerous characteristics. Any carelessness is extremely easy to cause laboratory accidents, which may lead to heavy economic loss, or even casualties.

In recent years, chemicals accidents are increasing. Among the accident causes, the storage and use of hazardous chemicals accounted for 75.2%
In order to reduce and avoid chemical accidents, scientific hazardous chemicals management is essential.

· Chemicals Management Painpoints
◆ Manual Operation Missing:
Manual inventory is a complicated work. It will easily cause mistakes when scanning and recording the chemicals manually, and lower the accuracy of chemicals management.
◆Traditional Barcode Limitation:
Traditional Barcode or QR code easily get broken, dirty, or even peeled off.
Low scanning efficiency.
◆Unable to realize Real-time Detection:
Administrator cannot realize a real-time inventory checking for the chemicals. He is not able to know it in time, whether the chemicals is overtime borrowing.
◆Inventory Control Difficulty:
The chemicals may be placed in several different rooms. It is hard to track the inventory information, consumption, and usage.
· How does our solution work?
Using RFID technology, put the chemicals with RFID tags into the specially customized cabinet, which is equipped with RFID reader and antennas, to realize the functions of fast borrowing, returning, weighing, and inventory management of chemicals.

◆Solution Procedures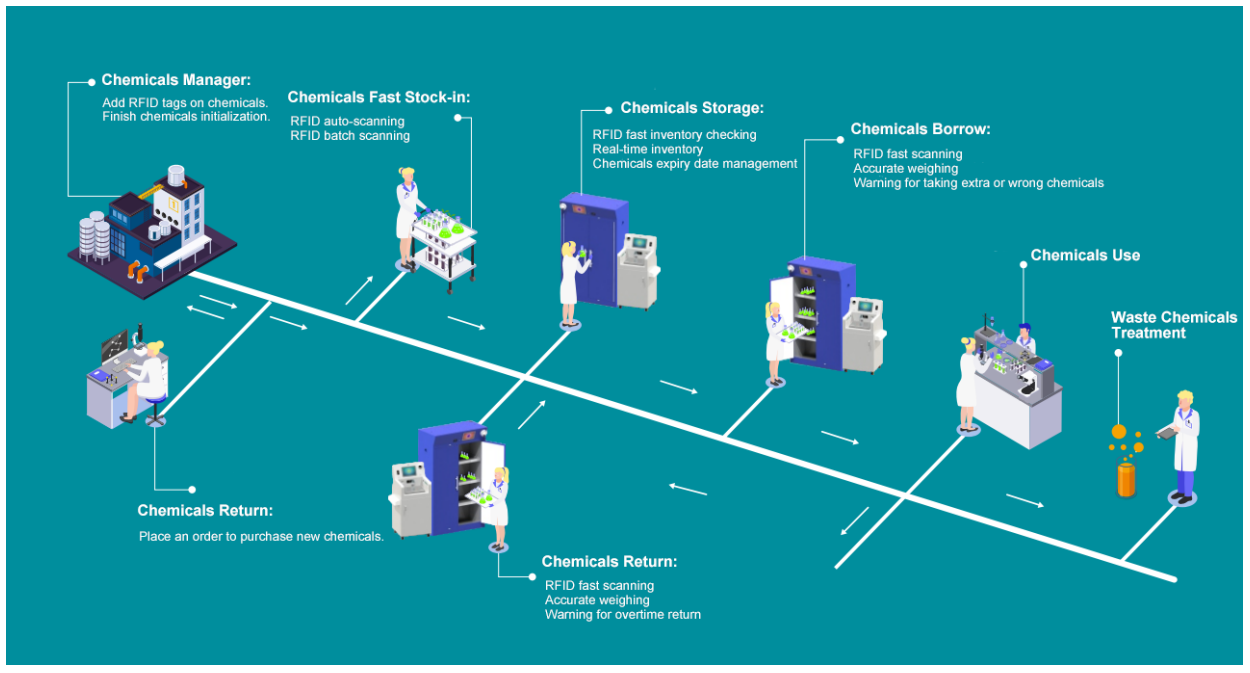 ◆RFID Smart Hazardous Chemicals Cabinet
◆ Support Various Login Method:
IC card, finger pring, face recognition. Double-user login is required, to ensure the chemicals is borrowed under administrator's permission.
◆ RFID Smart Inventory:
Fast and automated inventory checking. Scan hundreds of chemicals in 2-3 seconds.
◆ Monitor Camera:
Realize 24-hour unattended management. Provide with video evidence to any improper operation
◆ Multi Sensor:
Equipped with all-in-one sensor for temperature, humidity, TVOC, CO2, PM2.5, PM10, HCHO.
◆ Remote Inventory:
Administrator can remotely check all the cabinet status and chemicals information.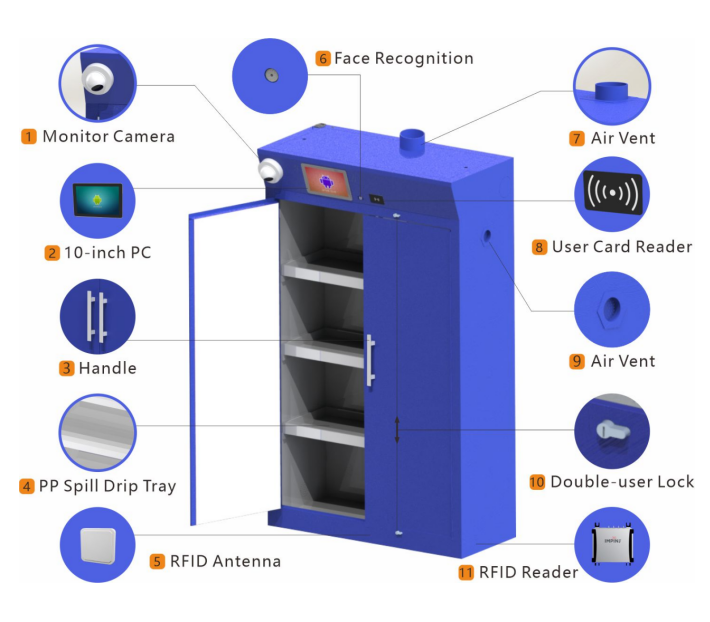 ◆RFID Smart Weighing Platform
Smart Weighing Platform is integrated with high-precision electronic scale, RFID all-in-one reader, barcode scanner.

Check the chemicals information in multi ways to ensure it is the correct chemicals.
If any unweighted chemicals is put into the cabinet, the system will alarm and notify the administrator.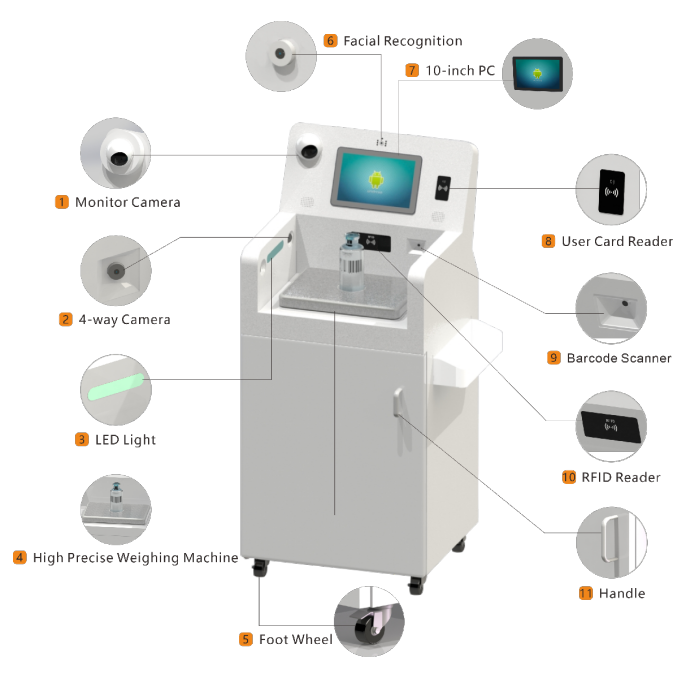 · Industry Value

✔Realize the smart management of hazardous chemicals , making the chemicals controllable and traceable.
✔Real time tracking avoids potential security risk caused by improper chemicals management.
✔Automated chemicals borrowing and returning management, greatly improves the efficiency.
✔Security. Responsibility traceable. Avoid disputes. Reduce the accidents and the loss of assets.
✔Generate chemicals inventory reports in real-time in the background system.